The 1990's era of Michael Jordan cards… what an era! Many people consider the 1990's era (and particularly the early 90's) to be the best era for collecting Michael Jordan cards - it was, after all the era of the two Chicago Bulls Threepeats.
The early 90's was the era I first started collecting and pulled my first Jordan from my first pack of cards (93-94 Skybox base).
The cards from the 90's include some fantastic inserts - it was this era where we really saw the insert card become a regular addition to the hobby. Foil cards, hologram cards, gold cards and die cut cards all grace the 1990's Michael Jordan cards available. The 1993-94 Michael Jordan Scoring Kings - a card many consider one of the best inserts ever made - also hit us in this era.
To boot many of these cards were heavily produced. Unfortunately that means most are far from rare but at least that means they can become a standout part of your collections quite easily and without forcing you to part with too much cash.
Below are the 1990's Michael Jordan cards ending soon on eBay - be sure to check back regularly as there are always new cards being listed.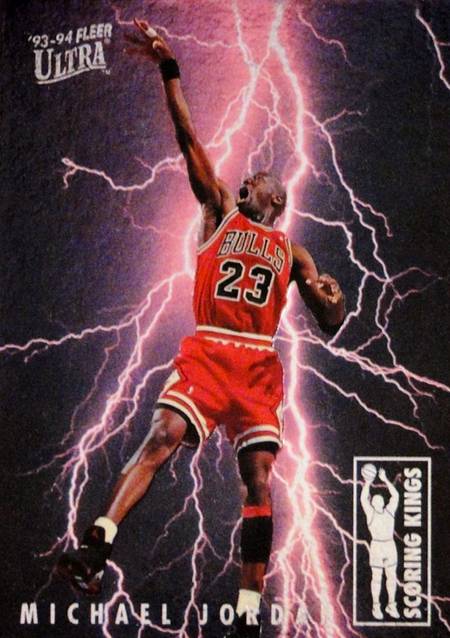 1990s Michael Jordan Cards for sale on eBay now
This website is user supported. Clicking some links and making a purchase may result in the site earning a commission. Affiliations include but are not limited to eBay. This in no way affects editorial content.