Popular Jordan cards
87-88 Fleer Michael Jordan Second Year Card
Considerably easier to add to your collection than the 87 Fleer RC of the previous year.
Year

1987-88

Set

Fleer

Number

59

Player

Michael Jordan
The 1987-88 Michael Jordan second year card is a fantastic addition to your collection. This card follows up the Fleer Jordan rookie card of the year before very nicely with a good clear photo and classic vintage design.
To top this off, this card can be purchased for considerably less than the Michael Jordan rookie card of the year before. This can be an affordable way to add and early Jordan base card to your collection without spending thousands of dollars.
The Michael Jordan second year card was released just as Jordan's career was starting to take off - the year just before Scottie Pippen was signed to the Bulls, the year the Bulls started to put together the 'unstop-a-bull' team of the 90's.
Watch out for poor centering, print spots and the usual age issues.
And don't forget about the Michael Jordan second year sticker and the Michael Jordan third year card both of which displays beautifully with the second year card.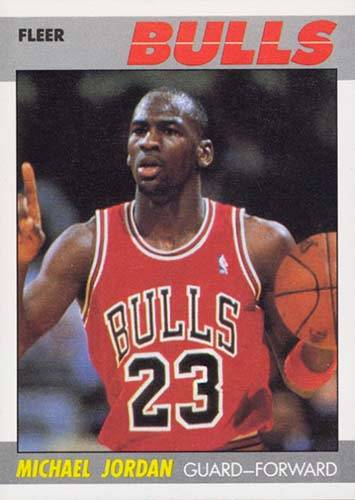 87-88 Fleer Michael Jordan Second Year Card for sale on eBay now
This website is user supported. Clicking some links and making a purchase may result in the site earning a commission. Affiliations include but are not limited to eBay. This in no way affects editorial content.