Popular Jordan cards
88-89 Fleer Michael Jordan Third Year Card
Fleer's third Michael Jordan card maintains a vintage look.
Year

1988-89

Set

Fleer

Number

17

Player

Michael Jordan
The Michael Jordan third year card is the 1988-89 Fleer card (the 3rd base card produced by Fleer featuring Jordan). This card - as with the second year card - features Jordan in action and can be bought for considerably less than the rookie card of two years earlier.
It features a triumphant Jordan high-fiving a team mate with classic old school design and card stock. It is commonly available for sale on eBay at very reasonable prices. A very nice piece of history to add to your collection!
Cards this age should always be bought graded if possible however you will have to pay a premium price for a well graded card. However, as long as you carefully check the condition of an ungraded card and buy from a trusted seller you should have no problems taking a risk on this one.
As with the Michael Jordan second year card, don't forget about the Michael Jordan third year sticker to pair with the third year card - they display beautifully together.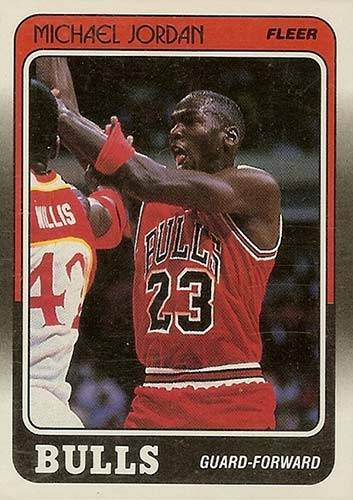 88-89 Fleer Michael Jordan Third Year Card for sale on eBay now
This website is user supported. Clicking some links and making a purchase may result in the site earning a commission. Affiliations include but are not limited to eBay. This in no way affects editorial content.