Popular Jordan cards
92-93 Michael Jordan Total D
The first insert focussing on Jordan's defensive capabilities.
Year

1992-93

Set

Fleer Total D

Number

5

Player

Michael Jordan
Fleer have provided us with the best vintage Michael Jordan inserts. The 1992-93 Fleer Michael Jordan Total D is a prime example of the quality and appeal that these early inserts have.
Other notable inserts of the 92-93 season include the Fleer Michael Jordan Team Leader and Topps Stadium Club Michael Jordan Beam Team.
On top of its appeal, it features some of Jordan's defensive repertoire. By far most cards show Jordan on the attack - flying to dunk, stepping around defense or lining up a spectacular shot. It is refreshing to add a card featuring Jordan's defense skills to your collection.
This card's design is unique given the card styles that were most common at the time. It features a photo of Jordan defending where he has been deep etched out allowing only Jordan himself to appear in colour. The colour of the background appears (albeit still that cool muted colour of early cards) as a part of the large D accentuating the defense point that the card is making.
It is one of my favorites and would make an excellent addition to your collection.
Watch out for poor centering and edge, corner and surface wear due to the age of the card.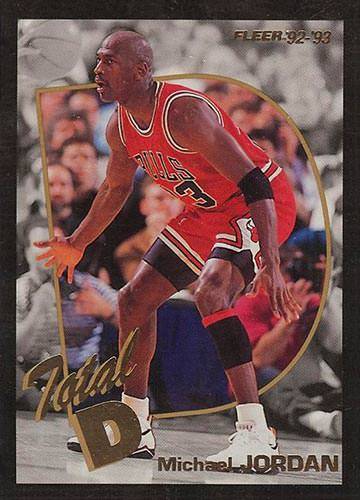 92-93 Michael Jordan Total D for sale on eBay now
This website is user supported. Clicking some links and making a purchase may result in the site earning a commission. Affiliations include but are not limited to eBay. This in no way affects editorial content.