Popular Jordan cards
93-94 Michael Jordan Power in the Key
A truly 90's styled insert with its bright, etched foil setting off a deep etched photo.
Year

1993-94

Set

Fleer Ultra Power in the Key

Number

2

Player

Michael Jordan
The Michael Jordan Power In The Key Fleer Ultra insert card brings back many memories for me. This was one of the ultimate cards to own back in the 1993-94 season - along with the Michael Jordan Scoring Kings.
The card features a highly colourful textured background of a stylised court key. A deep etched and high colour glossy photo of Michael Jordan then makes up the foreground of the Power In The Key card.
A high quality copy of this card was one of the rarer inserts back in the 1993-94 season. This is due to the fact that it was inserted at a rate of one per box and the textured foil background allowed for easy chipping and surface problems. This card could be pulled fresh from a pack in less than perfect condition.
In all its glory it is a nice addition to any collection. To top that off it can be picked up from eBay very easily being typically highly available. The Michael Jordan Power in the Key is a must for all Jordan collectors.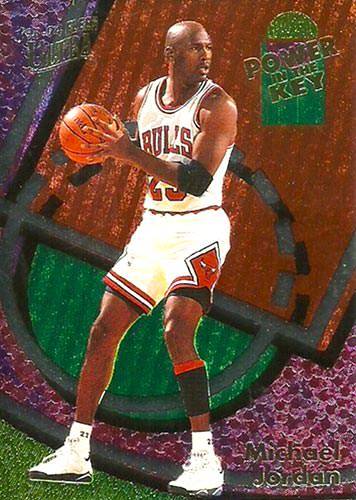 93-94 Michael Jordan Power in the Key for sale on eBay now
This website is user supported. Clicking some links and making a purchase may result in the site earning a commission. Affiliations include but are not limited to eBay. This in no way affects editorial content.