Popular Jordan cards
Michael Jordan College Cards
Cards featuring Michael Jordan playing for the North Carolina Tar Heels.
There were no college cards released during Michael Jordan's tenure at the University of North Carolina Tar Heels. This was more than made up for in 1989 and onwards however.
The Coca-Cola collegiate release included two sets of UNC cards featuring Jordan in his college seasons.
A similar design and full use of the UNC Tar Heels blue adorns both the 1989-90 and 1990-91 sets. There's also a gold parallel available as part of the 1989-90 set.
In subsequent years there were plenty more releases featuring Jordan in his college days - most notably the Fleer Retro releases.
Take a look below to see Michael Jordan college cards for sale right now on eBay.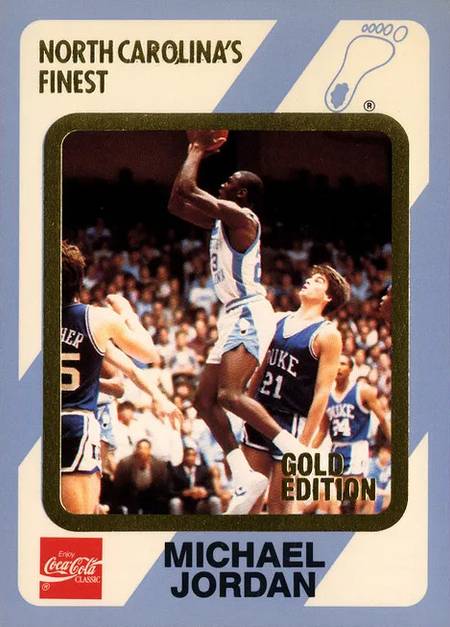 Michael Jordan College Cards for sale on eBay now
This website is user supported. Clicking some links and making a purchase may result in the site earning a commission. Affiliations include but are not limited to eBay. This in no way affects editorial content.