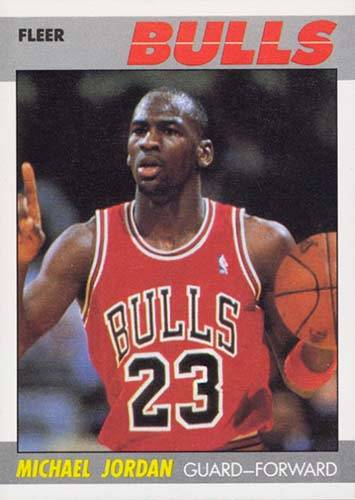 The 1987-88 Fleer second year Michael Jordan card is an excellent card to add to your collection. In this case we mean the 2nd Michael Jordan card produced by Fleer.
The Michael Jordan second year card was made just as Jordan's spectacular career was starting to take off – the year just before Scottie Pippen was signed to the Bulls, the year the Bulls started to put togther the 'unstop-a-bull' team of the 90's.
To top this off, this card can be purchased for considerably less than the Michael Jordan rookie card of the year before. This can be an affordable way to add and early Jordan base card to your collection without spending thousands of dollars.
Watch out for poor centering, print spots and the usual age issues.
You might also be interested in: Collecting Michael Jordan History in Cards Part One – The Early Years
Don't forget about the 1987-88 Michael Jordan second year sticker to pair with the Jordan second year card – they display very nicely together.
1987-88 Michael Jordan second year card for sale on eBay