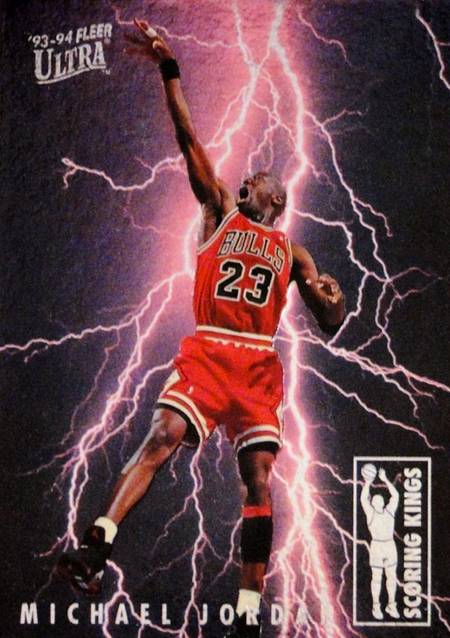 The Michael Jordan Scoring King is explosive – an explosion of lightning, an explosion of Jordan's aggression, an explosion of purple tinged stunning foil.
This card presents a spectacular opportunity for both avid Jordan collectors and basketball card dealers. If you are lucky enough to track down (or already own) a mint – and I mean MINT – copy of this card then you, my friend, have a gem.
The demand for this card currently sees it regularly sell for considerably more than its book value in online auctions such as eBay.
The reasons for this are simple:
It is an excellent, eye-catching card which is seen as a necessity for serious Jordan collectors
It is a foil card many years old now so mint copies of the card are rare due to dark foil's easy chipping
This card has both looks and rarity – what more could you want in a piece of Jordan history to add to your collection?
The Michael Jordan Scoring King features prominently in both my top 10 Michael Jordan cards of all time and top 10 Michael Jordan cards of the early 90's.
This one should be in every Michael Jordan fan's collection! Check out the listings below for plenty for sale online right now.
Michael Jordan Scoring Kings for sale on eBay