Star Company has a storied history. As the only manufacturer of basketball cards in the mid 80's, Star Co is responsible for giving us the Michael Jordan XRC along with many other star players who would not have otherwise been featured on a trading card released in their rookie season.
Unfortunately, a range of factors - the Shop at Home scandal, Beckett's denoting of rookie cards as XRCs, rumours cards were reprinted, issues with identifying counterfeits etc - has, in the past, limited some collectors' interest in Star Co cards. However, in the last decade or so, we have seen a true appreciation of the contribution made by Star Co with many collectors, myself included, considering the Star Co XRCs to in fact be TRCs or True Rookie Cards.
Star Co cards resource
Essential reading for anyone interested in Star Co is Jarret Kahn's excellent resource Basketball Gold who has also contributed scans to JordanCards.com in the past.
In 1986 Star Co's exclusive NBA license expired - this is where Star Co purists will draw the line only collecting Star cards from 1983 to 1986 as they were officially licensed by the NBA.
Star Co did go on to continue producing basketball cards in the early 90's however these sets were licensed directly with the players / teams or may have been entirely unlicensed. Thus, these later releases are not as sought out as per the original sets.
However, I would argue there is one of the 1990 Star Co cards sets which is worthy of all Jordan cards collectors: the 1990 Star Co Equal set and more notably the 1990 Star Co Equal Glossy hard cased sets limited to 250. This set was certainly a licensed and legitimate release in partnership with Equal and the Chicago Bulls.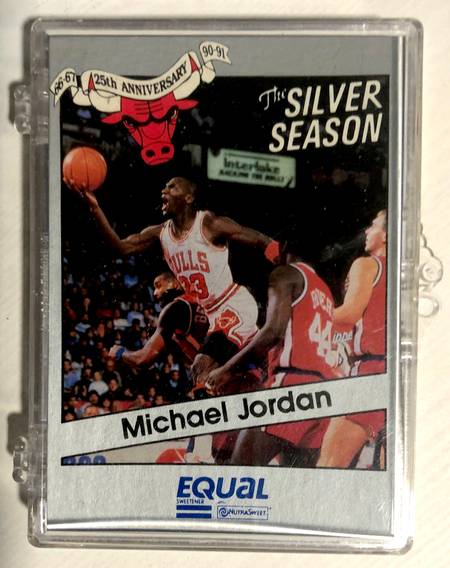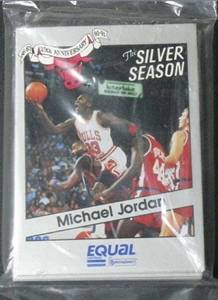 Minimally available promotional releases such as the Boy Scout Interlake, the Entenmann's sets and the 1989 Equal Bulls set are already well respected in the Jordan collecting community. These examples are generally readily available and command respect by collectors maintaining decent values. I believe the Star Co Equal Bulls Glossy set should fall into this same category.
For the Chicago Bulls' 25th Anniversary 'Silver Season' the franchise had manufactured and distributed Star Co polybagged sets sponsored by Equal to celebrate players of the team over the preceding 25 years. These polybags were given out at games in 1990-91 as well as sent to distributors for sale. In an earlier article on the 1990 Star Co Equal set Steve Taft estimates there were 20,000 - 30,000 sets produced with 10,000 handed out at games. The estimate equates to likely 1 in 2-3 chance any given bagged set was handed to a fan at a Bulls game as they started the journey to the first of two three-peats.
Take a look
As an interesting aside - we can see an advertisement for Interlake Youth Incentive Program (as mentioned above) in the background of both the 1989-90 and 1990-91 Jordan Equal cards.
In addition to the regular set Star Co produced this 'Glossy' hard cased set and limited the run to only 250 sealed sets. I'm not certain of the distribution method, however in terms of production size this puts the glossy variant at some of the rarest Star Co cards ever produced. I will update this article if I find any solid information of the glossy set distribution model.
The difference in the cards themselves is a subtle gloss coating. They were not distributed in polybags as per the regular set - the glossy set came in a hard case with a four ball hinge and snap locking. The sequential serial number was printed on a white sticker label with "Chicago Bulls Glossy Edition Set # of 250" printed. This label was affixed to the case itself so once the case was separated from the cards there was no way to verify the serial.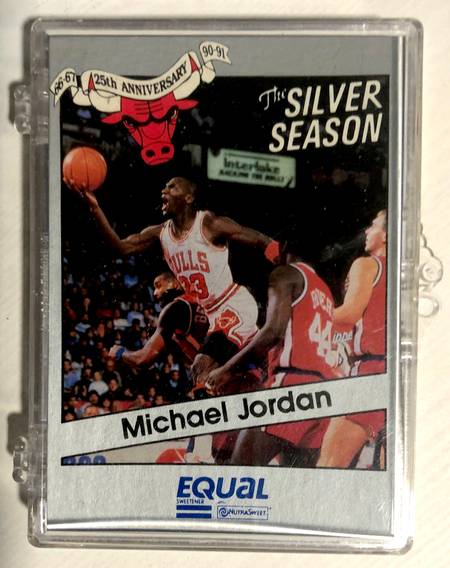 I've only ever seen two complete sets come up for sale - both around 2011 or so - and I was able to purchase them as a lot. I don't recall what I paid unfortunately. Here my two sets are shown above. Unfortunately, both sets have issues - one set has had its serial number sticker removed and the other, while retaining the sticker, has a cracked case.
I've talked with a number of collectors over the years who received the regular issue Chicago Bulls Equal set at games in 1990. I haven't talked with anyone who knows much about the distribution - or even anyone who owns - the glossy Equal set. Please do write in if you have any information and keep checking out the links below if you're keen to buy anything that comes up for sale online.
Shop Michael Jordan Equal sets
Update Jan 17 2023
High end collector Mark Vrijmoed bought his Star Co Equal glossy set when released and has a letter as part of the original distribution.
I'm yet to confirm the condition issues mentioned and interestingly the letter mentions a print run of 200 as opposed to the 250 printed on the hard cases.