Contributor: Discussion with Chip Leakas
Back in early October I received an email from Chip Leakas of Newport, RI looking for some help identifying a metal card he had in his possession since 1991. After some discussion we worked out that Chip in fact had the very rare and well sought 1991 Michael Jordan Hoops Prototypes #004!
For those new to this card it is an aluminium card prototyped, but never released, by Hoops. As a result there are few in existence and copies rarely show up for sale. If you're interested they do turn up for sale on eBay occasionally: 91 Hoops Michael Jordan Prototype Metal.
Note on the 91 Michael Jordan Hoops Prototype: There is also a standard cardboard version of this card which is much easier to come by and a great showpiece in your collection: 91 Hoops Michael Jordan Prototype.
Chip decided to have the card graded by PSA after we discussed some of the high sales prices that have been seen for highly graded copies of the card. He received back a grade of PSA 7 NM.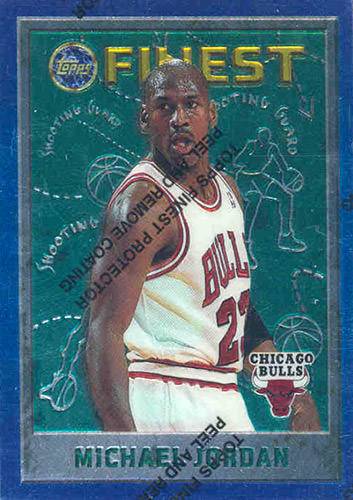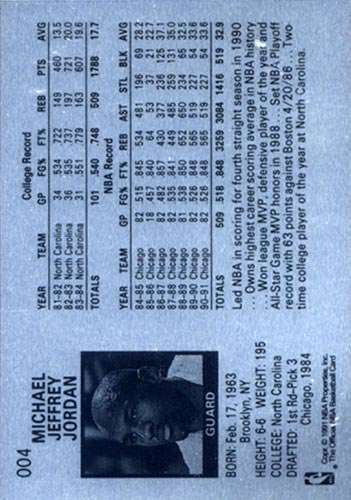 Chip has also decided to sell the card on eBay which presents a fantastic opportunity as these great cards rarely show up for sale. So if you're interested be sure to check out Chip's auction of the Michael Jordan 91 Hoops Prototype #001.
Update November 19 2011: Chip's card has sold for $215 in November 2011. You can find any 1991 Michael Jordan Metal Prototype's available on eBay right now here: 1991 Michael Jordan Metal Prototype
As far as value goes it will be interesting to see the sale price. The only sales I'm aware of are a few BGS 9.5 copies selling for around $1500. So this is certainly a well sought card!
Many collectors – myself included – love to hear stories of how cards came into possession of other collectors and Chip certainly has a great one with this card.
Here is Chip's story:
In 1991, I flew to Seatle, WA to interview with a printing company as a manufacturer's representative. At the meeting, the printer was showing samples of their work. The owner of printing company explained that they were asked by the NBA and a bread company and an advertising agency to create an aluminium trading card to be inserted into the packaging as an incentive to buy the product.

I was handed a "prototype" aluminium Official NBA card with Michael Jordan, Chicago Bulls, Guard printed on the front and stats on the back. You can see the official COPYRIGHT 1991 NBA on the back of the card.

The President of the printing company said I could keep the "prototype" copy but not to show it to anyone until the NBA approved the card.

It was never approved by the NBA and considered dangerous since it was printed on a thin sheet of aluminium which could cut or injure a child or collector.

I have kept the sample in my card collection for 20 years and decided to auction it on eBay.

I will answer any and all questions through eBay so all others can see the questions.

I will ship internationally also and expedited and insured shipping is suggested!
Checkout eBay for these cards for sale: