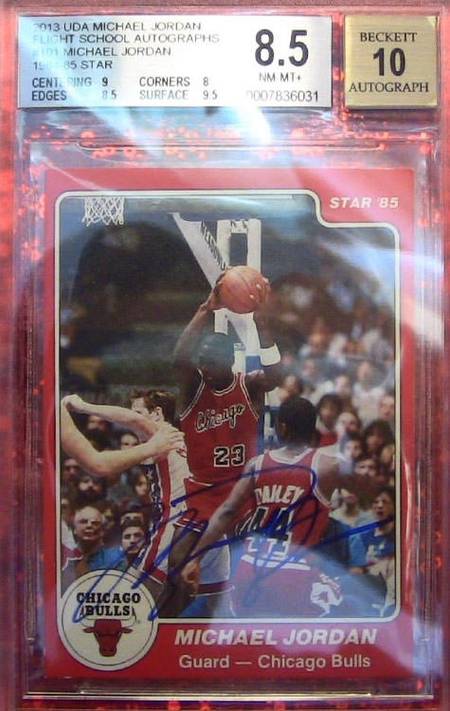 Its no secret that I – and guest authors to this blog – are big fans of the Star Co Michael Jordan cards – just check out these posts:
So when an autographed Michael Jordan XRC shows up for sale on eBay I can't let the opportunity pass to share this piece of memorabilia with anyone who hasn't yet seen it.
eBay user jesusonlysaves has placed online in an open bidding auction the stunning card below. There appears to be no reserve price set and with almost nine days of bidding still available the bid price is almost at $5000.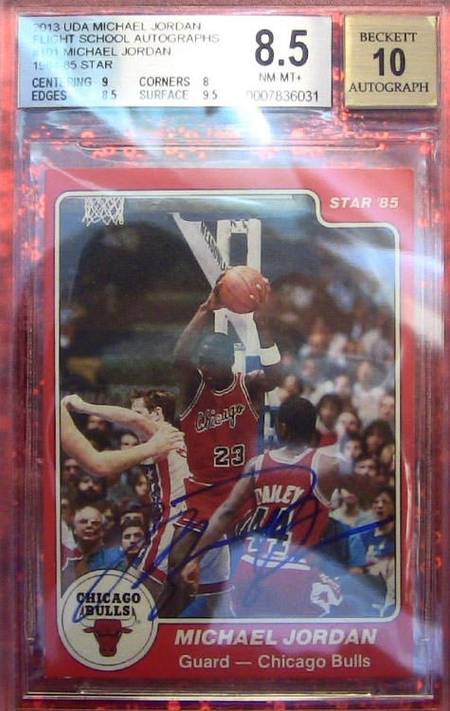 Check out the listing within the next nine days.
Here is a screen shot for those reading this post after the auction closes.
This is a truly remarkable piece of memorabilia. The Star Co set is notoriously difficult to find in a high grade (with major centring problems and issues with the Jordan being the top card in the team bags). So the fact that here we have a BGS 8.5 is alone a reason for this card to receive some major bidding!
Then we come to the auto – this was penned by Jordan at the 2013 Flight School with all of UDA's usual authentication processes. The bold and neat autograph deservingly received a 10 from BGS's auto grading and authentication topping this card off nicely.
With so few of the Star Co XRC cards available compared to the 86-87 Fleer Michael Jordan rookie card its not hard to see that this card will be a well sought after investment.
Well graded autographed copies of the 86-87 Fleer rookie card have been know to sell for tens of thousands of dollars – this card will certainly be worth a watch to see what the market believes a well graded autographed XRC is worth.
I'll be sure to post the closing price once the auction ends. What do you think we'll see here?
Update 26 Jan 2015 – the auction has ended with a sale price of $9600.
If you're looking for other Jordan XRCs for sale check out my buy Michael Jordan XRC page.
Happy collecting!