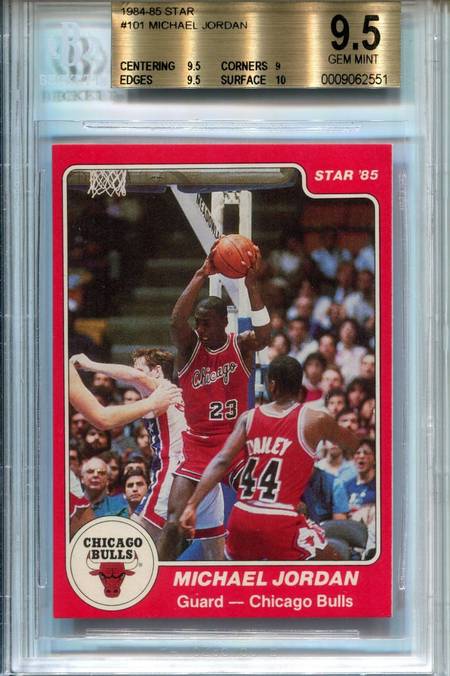 In November 2014 the first ever graded Michael Jordan XRC BGS 9.5 card became available through Beckett Auctions. Now the second ever graded BGS 9.5 copy is available for sale online – only this time through an open eBay auction!
The card has been graded 9.5 centering, 9.5 edges, 9 corners and 10 surface piping out the first BGS 9.5 which has a 9.5 for surface. So this card is the best condition copy of the Michael Jordan XRC that BGS has ever graded!
Star Co cards are notoriously poorly centered and regularly the Jordan XRC has corner and surface issues due to its placement as the top card of the 1984 Bulls Star Co team bag. Out of the 525 that Beckett have graded there are only 33 BGS 9 copies and these 2 9.5's as the top specimens BGS have seen.
With just under 4 days left to run on the auction it is at $136,000 which with 780 watchers will no doubt continue to climb… and possibly climb astronomically!
Check out the auction on eBay here.
And here's the card in all it's glory.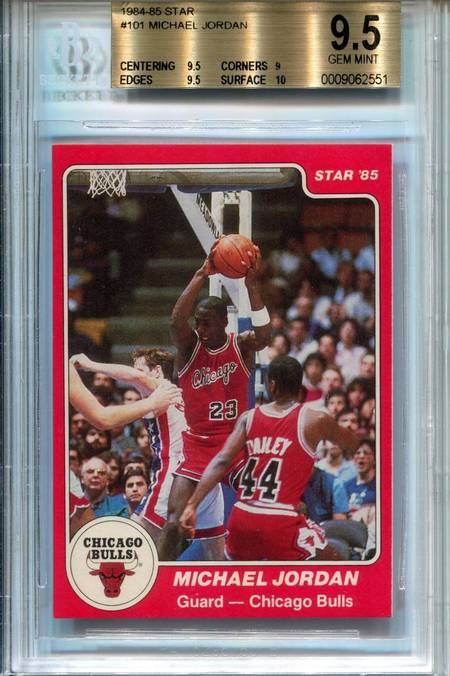 Seller rclcollectibles23 has listed the card in open auction and says that unless they receive an "absurd" offer the listing will see out the full auction. This is unique as we rarely get to see cards of this value auctioned like this – should the listing complete (and legitimately sell) we'll have a new insight into some of the values high end Michael Jordan trading card collectors place on the highest value items.
I'm keen to hear what you think – will this one reach the heights of the 86-87 Fleer RC BGS 10 which sold for $250,000?
Update 31 October 2016
The second ever surfacing Michael Jordan XRC BGS 9.5 has sold on eBay in open auction with 66 bids for $164,700!