This year the Michael Jordan rookie card celebrates its 25th year! If the hype around its 20th birthday is anything to go by you can be sure there will be much more interest upcoming in this iconic card.
On top of this we usually see somewhat of a lull in interest in Jordan cards during the second and third quarters of the year. This is probably also a result of excitement and interest that bring more new and returning collectors over the holiday periods each year. So right now you will find considerably less competition vying for the cards that are available online through sites like eBay. However you will also find less cards available as many dealers hold their most valuable items off until the holiday season approaches.
Buying a Michael Jordan Rookie Card
My recommendation is to check out Michael Jordan rookie cards on eBay now. Decide what you want (eg BGS/PSA 8 or 9) and what you want to spend and keep an eye on what is available. You might find the want list tool useful for this as you can set your parameters and this website will remember what you are after and show you all listing each time you return. I have a blog post discussing the ins and outs of buying a Jordan rookie card which may also help: What to look for when buying a Michael Jordan Rookie Card.
How to add a Michael Jordan 'rookie' card to your collection without breaking the bank
If cost is an issue for you (a good Jordan rookie card will cost at least $1000) you might like to think about buying a reprint Michael Jordan rookie card. These are copies of the original card. They look exactly the same but are not authentic rookie cards. They still make nice additions to your collection if you like the look of the card and are not concerned with authenticity. And they can be bought for $5 to $25! Reprint Michael Jordan rookie card
The ultimate Michael Jordan rookie card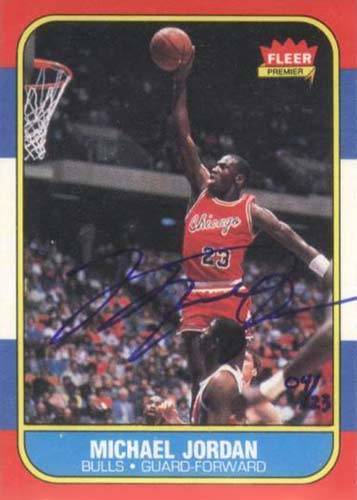 There is a Michael Jordan rookie card that I consider one of the ultimate cards to own – the buy-back Michael Jordan rookie card. Upper Deck purchased Jordan rookies from the open market and inserted redemption cards into packs for this card. The rookie cards were sent to Jordan himself for signing! These are extremely rare and very expensive but have to be the ultimate Jordan card – in fact the ultimate basketball card – to own. I have a couple of posts that might interest you in this:
What about dealing in Jordan rookie cards?
As I have discussed earlier – dealing in Michael Jordan cards can be an exciting and rewarding hobby business to run. Many dealers use the quiet periods – right now – to stock up on great and valuable cards to release for sale come the holiday period when the market is flooded with excited buyers. Now is a great time to look into stocking up on Michael Jordan rookie cards if you are thinking about reselling at profit come November – February. Happy collecting everyone and best of luck adding the world's best basketball card to your collection!