Contributors: Roundtable discussion, feedback, and fact checking by Steve Taft, Lou Costabile and Jarret Kahn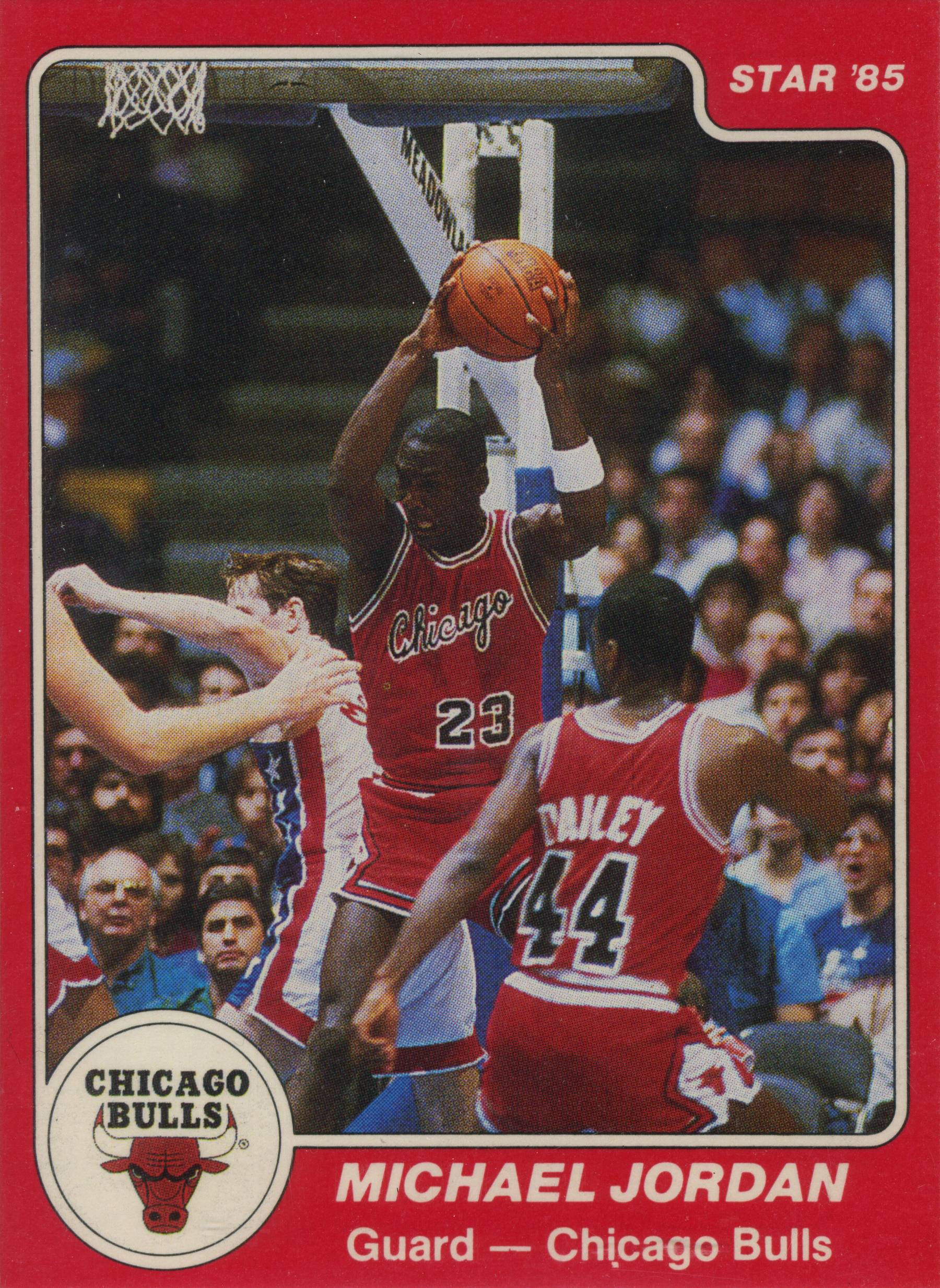 What is the Michael Jordan true rookie card?
This article is the result of a roundtable discussion I held with three knowledgeable collectors looking at the status of the 1984-85 Star Michael Jordan #101 card. The question on the table was: "Is the 84-85 Star #101 card Michael Jordan's true rookie card and why/why not? Why is it that the card is designated an XRC by most collectors?" Some collectors refer to this as the Michael Jordan TRC.
Michael Jordan Star Co #101 cards for sale on eBay now
It is worth noting also that, though our discussion focussed on the Michael Jordan #101 card in the 84-85 Star set, there are several other notable cards produced by Star Co. to which the same principles apply. For example (by no means exhaustive):
James Worthy #25 83-84 set
Isiah Thomas #94 83-84 set
Dominique Wilkins #263 83-84 set
Charles Barkley #202 84-85 set
John Stockton #235 84-85 set
(H)Akeem Olajuwon #237 84-85 set
Patrick Ewing #166 85-86 set
Having input into the conversation was renowned Star Co. cards expert Steve Taft along with experienced collectors Lou Costabile and Jarret Kahn. Check out the bottom of the article for links to the websites and online stores for these guys.
Steve Taft has been a dealer of Star Co. cards since the first All Star Game release in 1983. He consulted for the NBA in the million dollar court case between the NBA and Star Co. following the illegal printing of back dated cards in late 1996 to 1997. (This is commonly called the "Shop at Home Scandal" and you can read more about it at my interview with Steve Taft of August 2010.) Steve was also responsible for training Beckett graders in 2008 to enable BGS to begin grading Star cards – Beckett press release.
Lou Costabile and Jarret Kahn are well established and highly knowledgeable collectors of Michael Jordan Star Co. cards. Both have experience buying and selling the highest graded and most valuable Michael Jordan Star Co. collectables. Lou has also written a couple of articles for this website:
Now that you've met everyone let's get into the discussion. The Michael Jordan memorabilia collecting community at large generally accepts the Beckett determined status of the 84-85 Star #101 card as being an XRC (Extended Rookie Card) and not Jordan's RC (Rookie Card). This is a point of contention for many reasons as you'll see in this article.
To begin our discussion we first need to define these two terms clearly.
What is a Rookie Card (RC)?
Between us we agreed that a rookie card is a card which is:
The professional player's first appearance on a card.
For example in 1985 Topps released a Mark McGwire baseball card #401 in a Team USA uniform which is considered his rookie card even though his first card in an Oakland A's uniform was 1987.
Manufactured by a company with a license to print cards for the major league they are representing.
Part of a regular release set unless the only card released was part of a special set.
For example if the player has a base card, All Star card, and League Leader card in the one set then the base card will be considered the rookie card.
What is an Extended Rookie Card (XRC)?
The Extended Rookie Card nomenclature was actually invented by Beckett as a way to differentiate between the first card of a player in a standard set (RC) versus the first card of a player in special sets such as Topps Traded, Fleer Update or Donruss Rookies (XRC).
Beckett's reason for this was to place emphasis on the standard set to ensure true rookie cards came from these standard sets and not from special sets which sometimes featured new players before they had officially become professional players.
This statement begs another question: "what exactly is the difference between a 'standard' and 'special' set"?
I couldn't find anything from Beckett stating how they differentiate between the sets however, if we take the Topps Traded and Fleer Update sets as an example, we can assume the intention of the XRC designation was to ensure cards from complementary release sets distributed in complete set form are not classified as true rookie cards.
In addition, many collectors state that any card from a set not available through retail outlets and easily obtained by the general public cannot qualify as a rookie card. Steve Taft confirmed that this was the major point for Beckett in assigning the XRC status to RC cards of Star Co. sets:
I recall that a card from a set generally not obtainable thru retail outlets was a reason to call it an XRC and not a RC. Beckett believed a RC should be a card from a set available thru the long traditional sales outlets for cards such as corner liquor stores, pharmacies, mini-marts. This is why Star Co. RCs were assigned to the XRC category.