Notable mention: 1998-99 Michael Jordan Dunk 'n Go Nuts
Manufactured by EX Century, card #15
The Triumvirate Illuminator isn't the only acetate stock card to feature today. You can't go past the EX Century Dunk 'n Go Nuts acetate card when compiling a list of the top late 90's Michael Jordan cards!
This card features a totally transparent background with high gloss type in the vein of the branding of Dunkin' Donuts. It looks great in any collection and is quite a conversation piece.
Watch out for 'gold' or 'orange' versions as these are simply cards which have not aged well in the conditions in which they were stored or displayed. It's worth noting that they do still grade well however.
Acetate cards tend to hold their condition well in corners and edges due to the strength of the plastic.
The 98-99 Michael Jordan Dunk 'n Go Nuts sells for around $200 – $230.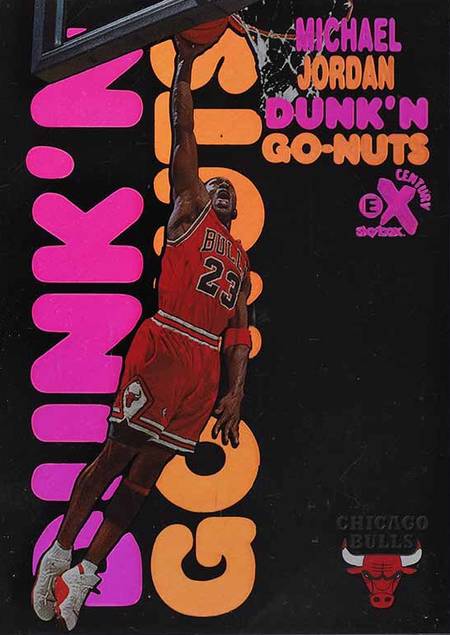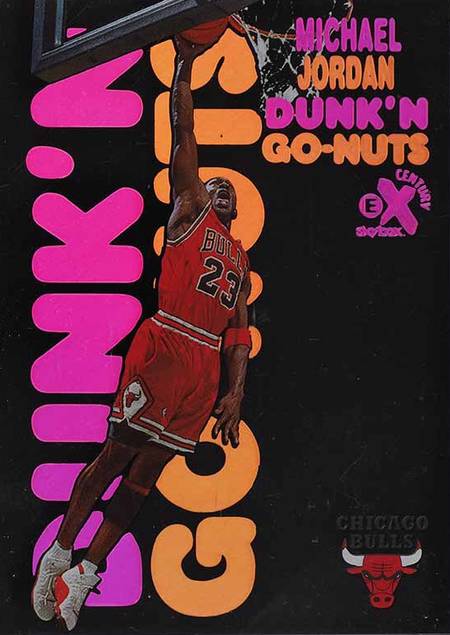 Notable mention: 1998-99 Michael Jordan Intimidation Nation
Manufactured by Skybox, card #1
The Skybox Intimidation Nation doesn't feature any special effects like many of the other inserts in this list however it is a very cool card in its own right.
The Intimidation Nation insert set highlights close-up photography of the players and their intimidation of their opponents – a very cool and unique idea!
The cards are quite rare with a pack insert rate of 1:360 and command an equally high price at around $300.
Additionally there is a re-release version of this card as part of the 2011-12 Fleer Retro set which makes for a very cool side-by-side display.
Notable mention: 1998-99 Michael Jordan Takeit2.net
Manufactured by Flair, card #13
I'm a big fan of this card – in fact I'm in the process of developing a fan site around the domain name takeit2.net!
This card celebrates the boom of the internet with the play on words for the domain name of takeit2.net celebrating the whole, very cool set. All players in the set are given email addresses on the card with Michael Jordan receiving michael_jordan@takeit2.net.
As with all of Flair's productions, the card is printed on the thicker and more durable stock. The printed circuit board background features a high gloss foil which looks fantastic in person. Additionally, when the card is angled to the light, a very nice feature appears: the outline of a basketball hidden within the circuitry. And finally the card features a high impact photo of Jordan literally taking it to the net!
This one is a must have for all great collections – it sells for around $200 – $250 ungraded online.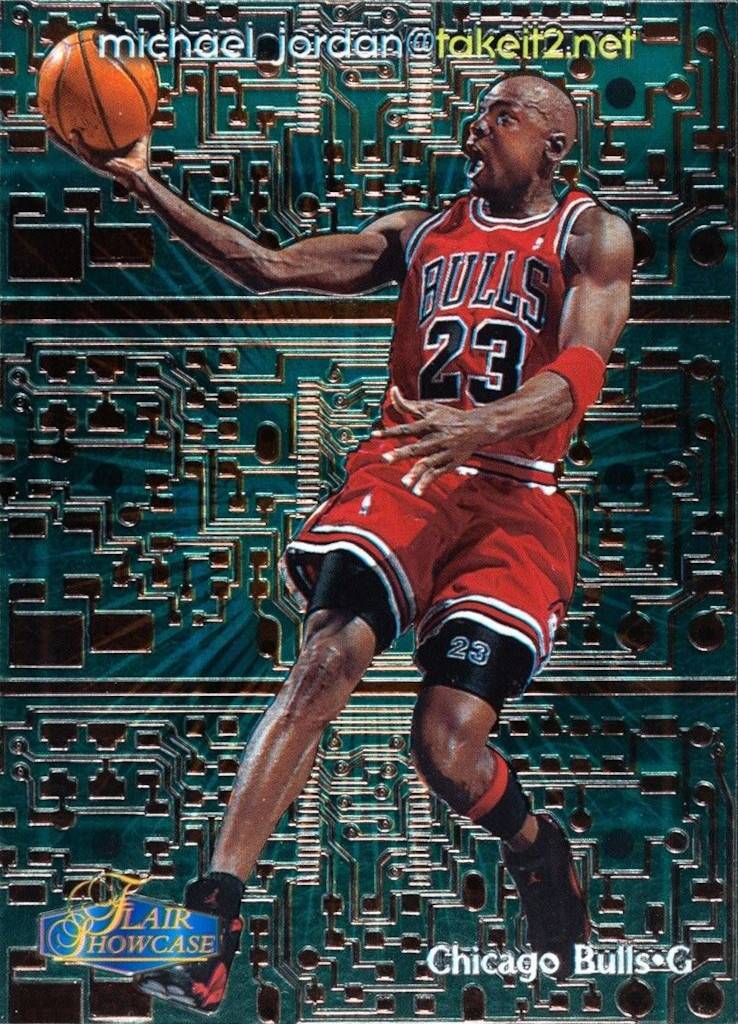 Notable mention: 1998-99 Michael Jordan Noyz Boyz
Manufactured by Skybox Thunder, card #9
The Skybox Thunder Noyz Boys set features a very cool die-cut design with a lenticular-like coating giving the cards a varying colouration and texture depending on the angle of view.
The card displays fantastically especially given that you can display the re-release version from the 2011-12 Fleer Retro set alongside it!
Notable: Michael Jordan Thunder and Lightning Cards
Manufactured by Skybox, cards #1 and #5
I'm fairly sure the Thunder and Lightning cards would not be mentioned with most people's list of top 10 Michael Jordan late 90's inserts however I think they are very nice and worth a notable mention. This is possibly partially due to the fact in my early days of collecting the 1993-94 Skybox Shaquille O'Neal / Anfernee Hardaway Thunder and Lightning was one of my favourite cards. So the opportunity to own two Michael Jordan versions of the Thunder and Lightning is very cool!
There are two options: the 1996-97 and 1997-98 Thunder and Lightning cards. The 1996-97 Thunder and Lightning features Michael Jordan on the outside with an inner card of Scottie Pippen on the inside – a very cool and unique feature. This means you have to watch condition however at only around $25 the card isn't too risky.
The showpiece, however, is the very nice 1997-98 Michael Jordan Thunder and Lightning! This one is much rarer and commands prices in the realm of $125 – $175. It features Michael Jordan alone (unlike all other Thunder and Lightning sets which featured two players) and has a really nice foil overlay with some nice graphics slightly reminiscent of the 1993-94 Michael Jordan Scoring Kings.