Top 10 Michael Jordan Cards – Late 90's Inserts
Now that we've taken a look at the quality cards too good to completely exclude from a list like this you know the actual top 10 Michael Jordan inserts from the 90's will be amazing!
As with all top 10 lists, this is a list of my personal favourite Michael Jordan inserts from the late 90's. I'm keen to hear your thoughts and top 10 cards in the comments below.
10: 1995-96 Hot Numbers
Manufactured by Flair, card #4
The Flair Hot Numbers set highlights some of the numbers and statistics from Michael Jordan's career in a very cool lenticular fashion. As you view the card and differing angles you see movement within the card which is a real standout.
The card is presented on Flair's thicker stock with the lenticular coating strengthening it further – its a card quite easy to find in spectacular condition.
I highly recommend the Michael Jordan Hot Numbers for a standout showpiece in your collection especially given the card isn't too expensive at between $150 and $200 ungraded and sold online.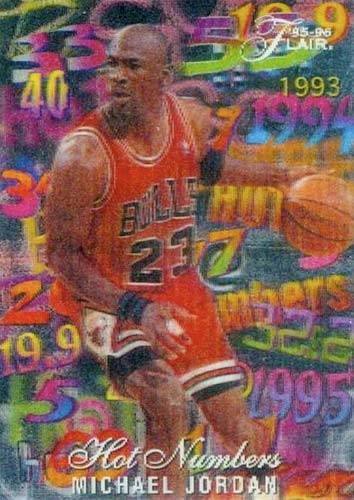 9: 1996-97 A Cut Above
Manufactured by E-X2000, card #5
If you're a fan of die-cuts then the E-X2000 A Cut Above cards are for you!
These cards feature a high quality die-cut design with a saw blade in the background overlaid with a very nice coloured foil effect. Its a real talking piece in any nice Jordan cards collection.
It is a somewhat rare card and sells for around $650 – $700 ungraded online.
You can also look at the 2011-12 Fleer Retro A Cut Above which features the same design with Jordan in his college uniform – a very nice side-by-side piece and considerably cheaper at around $100!
Watch out for issues with the die-cut edges when buying ungraded.
8: Michael Jordan Playmaker's Theatre
Manufactured by Fleer Tradition, card #9
Though the 1998-99 Fleer Tradition Michael Jordan Playmaker's Theatre does have a less flashy design than many of it's late 90's counterparts – this is a very highly sough after and respected card. The design features a somewhat cultured feel with a nice emboss that needs to be seen in person to be truely appreciated.
It commemorates Jordan's playmaking prowess – I quite like the quote on the back: "You've seen the footage for 13 years and it still hasn't gotten boring." Too right!
It is limited to only 100 copies so doesn't show up for sale often – though there is a retro version available also.
Be careful with this card when purchasing online. There are copies of the card (some of which have been graded) which are not embossed, are not stamped with a serial number and have a matte finish. Rumour is that the cards were purchased as unused complete sheets when Fleer auctioned its assets and these copies where then cut from the sheets.
To make it more confusing there are also available embossed copies (supposedly 'backups' in case Fleer needed to replace any pack pulled copies) which are not numbered.
Just make sure to view the serial number of any copy you're looking to buy if you want to ensure you're buying the true, pack pulled copy. Otherwise, as the non-numbered copies where produced by Fleer, you may be happy with those copies also.