Top 10 Michael Jordan Cards – Late 90's Inserts
Now that we've taken a look at the quality cards too good to completely exclude from a list like this you know the actual top 10 Michael Jordan inserts from the 90's will be amazing!
As with all top 10 lists, this is a list of my personal favourite Michael Jordan inserts from the late 90's. I'm keen to hear your thoughts and top 10 cards in the comments below.
10: Michael Jordan Thunder and Lightning Cards
Manufactured by Skybox, cards #1 and #5
I'm fairly sure the Thunder and Lightning cards would not be on most people's list of top 10 Michael Jordan 90's inserts however I think they are very nice. Possibly partially due to the fact in my early days of collecting the 1993-94 Skybox Shaquille O'Neal / Anfernee Hardaway Thunder and Lightning was one of my favourite cards. So the opportunity to own two Michael Jordan versions of the Thunder and Lightning is very cool!
There are two options: the 1996-97 and 1997-98 Thunder and Lightning cards. The 1996-97 Thunder and Lightning features Michael Jordan on the outside with an inner card of Scottie Pippen on the inside – a very cool and unique feature. This means you have to watch condition however at only around $25 the card isn't too risky.
The showpiece, however, is the very nice 1997-98 Michael Jordan Thunder and Lightning! This one is much rarer and commands prices in the realm of $125 – $175. It features Michael Jordan alone (unlike all other Thunder and Lightning sets which featured two players) and has a really nice foil overlay with some nice graphics slightly reminiscent of the 1993-94 Michael Jordan Scoring Kings.
9: 1998-99 Michael Jordan 3D's
Manufactured by Skybox, card #4
Selling for $150 – $200 this is one of the cards a little easier to add your collection.
The Skybox Michael Jordan 3D's features a single image of Michael Jordan displayed at differing sizes along a series of statistics and descriptions of Jordan's style of play. The card itself is coated with a very cool foil effect which displays very nicely.
This is a must have card for the price and I believe a fine addition to any Michael Jordan cards collection.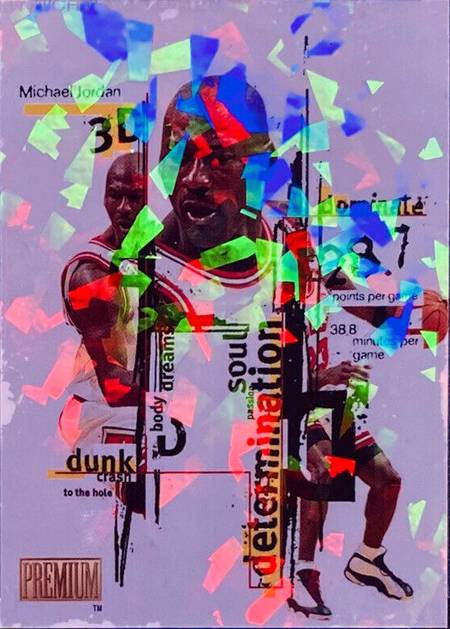 8: 1995-96 Hot Numbers
Manufactured by Flair, card #4
The Flair Hot Numbers set highlights some of the numbers and statistics from Michael Jordan's career in a very cool lenticular fashion. As you view the card and differing angles you see movement within the card which is a real standout.
The card is presented on Flair's thicker stock with the lenticular coating strengthening it further – its a card quite easy to find in spectacular condition.
I highly recommend the Michael Jordan Hot Numbers for a standout showpiece in your collection especially given the card isn't too expensive at between $150 and $200 ungraded and sold online.