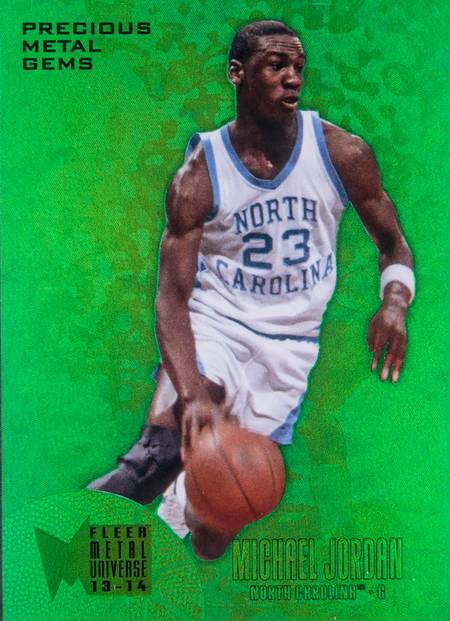 The 2013-14 Fleer Retro release from Upper Deck is out and us fans of early 90's Michael Jordan inserts with that old school feel are certainly happy!
Love your Michael Jordan Scoring Kings, Michael Jordan Team Leader, Michael Jordan Power in the Key? Well now you can add these cards re-released retro Michael Jordan cards featuring Jordan in his UNC uniform – very cool.
If you're unfamiliar with the Fleer Retro releases you might like to read my post on the 2011-12 Fleer Retro set which outlines the premise behind the releases as well as taking a look and the Fleer Retro Michael Jordan cards on offer of the 2011-12 set.
The 2013-14 set inserts include the following inserts (click on the links to see old and new versions for sale on eBay now or scroll down and check out the following pages for heaps of scans):
Its still early days but many Michael Jordan inserts from this set have surfaced already. Next up are some side-by-side scans to whet your appetite!
Michael Jordan Scoring Kings Retro
As I've discussed, the Michael Jordan Scoring Kings is one of my favourite Michael Jordan cards. Posting up aggressively in the image the card really highlights Jordan's drive and competitiveness accentuated by the awesome lightning bolt background.
This card takes pride of place in many collections the world over and now you can add side-by-side the same card with Jordan in his UNC uniform! Not only is it an awesome card but is exactly 20 years old this year!
Michael Jordan Power in the Key Retro
Another early 90's insert makes an appearance in the retro Michael Jordan Power in the Key – also exactly 20 years old.
The Power in the Key Michael Jordan card will bring back memories for a lot of collectors as it was one of the most sought after and cool looking Jordan cards of the early 90's. I remember staring at it through plate glass which was as close as I got to one for many years!
The cool textured foil design remains as powerful today as ever.
Michael Jordan Team Leader Retro
This blog post is starting to read like a list of my top 10 Michael Jordan cards of the early 90's inserts!
I'm a big fan of this card. The original 1992-93 Michael Jordan Team Leader was a tough insert to pull in the day and one of the first true inserts.
Maintaining its old school appeal, the Team Leader Retro card suits Jordan playing in his UNC uniform nicely – definitely one to add to the collection!