Top 10 Michael Jordan Cards – Early 90's Inserts
Now that we've looked at the early 90's Jordan inserts I couldn't leave off my top 10 list, let's kick off the top 10 proper!
Many of these cards are not only awesome inserts in their own right, with all the history accompanying cards from Jordan's heyday, but many of them have also been released as Michael Jordan buy back autographs and 12-13 Fleer Retro and 13-14 Fleer Retro inserts. Of course I've got plenty of scans with this post along with connections if you'd like to add these Jordans to your collection.
10: 92-93 Michael Jordan Beam Team
Manufactured by Stadium Club, card #1
First up at number 10 we have the 92-93 TSC Michael Jordan Beam Team.
This card is one of the first true Michael Jordan inserts and features as part of Topps premium product: Topps Stadium Club. Topps actually also released a Beam Team card as part of their standard product within the base set.
This Beam Team is available in both the standard – pack pulled – card and the Members only version which was available as part of a special set available to members of the Topps Club.
It is an awesome 90's insert which will take any collector straight back to the days when Jordan was flying high!
9: 94-95 Michael Jordan Gold Signature
Manufactured by Collectors Choice, card #23
Next up is a parallel card – the 94-95 Collectors Choice Gold Signature.
As I've discussed much throughout this site – a basketball card collection should document history. This card fits that bill perfectly!
In the 94-95 season Michael Jordan was actually playing baseball however Collectors Choice still featured a Jordan card in their basketball set! I actually remember pulling the standard version of this card back in 1994 and the confusion over pulling a baseball card out of a pack of basketball cards!
The card can't be represented adequately by scans – it has to be seen in person to truly get awesome feel of the beautiful gold foil on the card.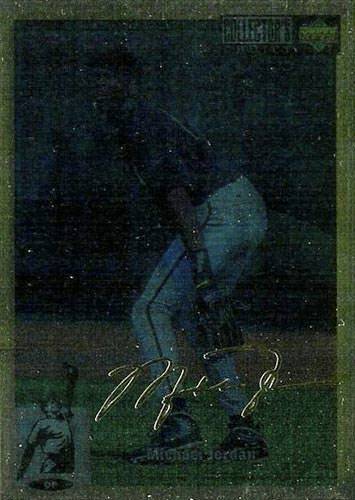 8: 93-94 Michael Jordan Power in the Key
Manufactured by Fleer Ultra, card #2
The 93-94 Fleer Ultra Power in the Key was a card I remember only ever staring at through plate glass back in the early 90's!
The card is one of the hallmarks of 90's basketball cards. It features a high colour, textured foil with a key shaped design.
If you owned this card back in the 90's you were very popular! Now you can pick up a nice copy on eBay for $10 – $20 for a copy without any major problems.
There is also a 1/1 buy back autograph copy and Fleer Retro have release a new version as part of their 13-14 season set.