7: 93-94 Michael Jordan Living Legends
Manufactured by Fleer, card #4
The Michael Jordan Living Legends is in the same category as the Michael Jordan Power in the Key – a spectacular card which earned its owner high respect back in the day!
Fleer released the Living Legends as part of their 93-94 set – it was the flagship insert and only pulled at one per box.
The Living Legends is a high gloss gold foil card with two deep-etched photos. Its a standout card in any collection and very easy to find for sale online.
6: 92-93 Michael Jordan Total D
Manufactured by Fleer, card #5
At number 5 in my top 10 early 90's inserts is the Michael Jordan Total D. This card captures the transition from 80's – 90's perfectly in its design both front and back. Its also refreshing to see a card highlighting Jordan's defensive capabilities.
The card was the flagship insert of the 92-93 Fleer offering and is readily available for $15 – $25.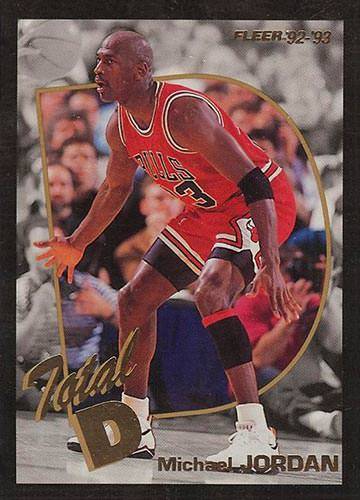 5: 93-94 Michael Jordan Famous Nicknames
Manufactured by Upper Deck, card #7
A smashed backboard, Jordan flying for a dunk and one word "AIR". This card celebrates Air Jordan's nickname in the midst of his leading the Bulls to two three-peat championships.
The Michael Jordan Famous Nicknames card is a simple and elegant card which is so easy to find for sale that its an absolute must for your collection.
Oh and whoever has the 1/1 buy back auto has a stunner of a card!