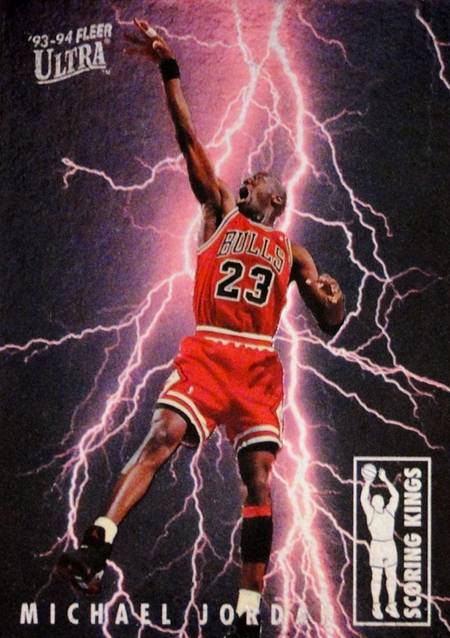 This post follows on from my previous post – Top 10 Michael Jordan cards from the late 90's – to round out what I believe are the best Michael Jordan cards produced throughout what was certainly Jordan's prime. During the 90's Jordan, Pippen, Jackson and the Bulls sealed two three-peats and Jordan skyrocketed to fame worldwide.
So it's no surprise that Jordan cards from this era are highly sought after and well respected collector's items. These are all cards I believe should be in every Jordan cards collection – after all shouldn't you be documenting history in your collection?
The list also works well as a recommended list for those starting a new collection – they are all relatively easily found for sale and are not out of reach of most collectors.
The cards featured in my top 10 late 90's inserts post were mostly extremely rare and accordingly extremely expensive items (some cards reaching $20k+). Conversely, the early 90's saw very high production rates and minimal extreme rarity of the inserts thoughout the period. While this might sound disappointing – there are minimal super rarities – it means the top inserts of the early 90's era are all cards within reach of all Jordan cards collectors.
I couldn't limit my list to just 10 cards so let's kick off with six notable mentions in honour of the Bull's two three-peat championships.
Notable Mention Michael Jordan Cards – Early 90's Inserts
Notable mention: 94-95 Michael Jordan N-Tense
Manufactured by Skybox Emotion, card #N3
This standout card gave us a glimpse of the look and feel to come from some of the stunning late 90's Michael Jordan high-end inserts. It features a highly reflecting, embossed coating with a soap-style treatment applied to the front copy.
And finally it is one of only a handful of cards which feature Jordan sporting the #45 jersey he wore upon his return to the NBA.
Notable mention: 93-94 Michael Jordan First Day Issue
Manufactured by Stadium Club, card #169
Topps released the Topps Stadium Club brand in 1992 as a premium product to accompany their standard Topps brand. The TSC cards were of considerably higher quality than Topps standard product and featured some of the first true Michael Jordan inserts.
In the 1993-94 season TSC released the First Day Issue parallel insert set. What is a parallel card?
This set is said to be limited to 1000 copies of each card and are supposed to be those produced in the first day of printing. The cards feature a gold stamp with a very nice reflective effect.
The #169 TSC Michael Jordan First Day issue has a true 90's feel and is a somewhat rare and very nice card.
Notable mention: 93-94 Michael Jordan Triple Double
Manufactured by Upper Deck, card #TD2
The Michael Jordan Triple Double is not a rare card but isn't it a memorable piece for those who were ripping packs of 93-94 Upper Deck back in the day?
Featuring the restrained, strong design typical of Upper Deck sets in the 90's, this card shows Jordan shooting with his standard aggression alongside a very cool hologram effect.
This was one of the first Michael Jordan Hologram cards (along with the 92-93 Award Winners). It is readily available for sale online at reasonable prices so I highly recommend this card for any Jordan collection.
Notable mention: 93-94 Michael Jordan All Defensive
Manufactured by Fleer Ultra, card #2
I'm a big fan of the simple design of the 93-94 Michael Jordan All Defensive. It relies on a simple design and strong photo as opposed to bright colours and reflective foil common in other inserts of the 90's. The design perfectly matching Jordan's defensive skills as he flies high to take a rebound entirely unchallenged.
It was a card somewhat difficult to come by – in fact I never saw one before the days of the internet – however nowadays you can track them down occasionally available for sale online. It is also a card that seems quite resistant to edge and corner damage.
Notable mention: 93-94 Michael Jordan Refractor
Manufactured by Topps Finest, card #1
The next notable mention top 10 early 90's Michael Jordan cards is THE original Michael Jordan Refractor. Topps released the first season of their ultimate premium product Topps Finest in 93-94 with the ground breaking parallel insert the refractors. For those who haven't seen one in real life – check out my Michael Jordan Refractors post or better yet add the Jordan Refractor to your collection!
The refractor parallels would prove to be some of the most sought after basketball cards in history and this highly colourful original Jordan stands out beautifully in any collection.
Notable mention: 93-94 Michael Jordan Behind the Glass
Manufactured by Upper Deck, card #G11
Upper Deck were masters of elegant, restrained designs in their 90's sets and the Michael Jordan Behind the Glass is no exception.
This set was intended to give the viewer a backboard-eye's view of each player flying for a dunk – a very cool idea.
The card features a deep-etched photo over a simple textured foil background. It is so easy to come by online and doesn't cost much at all that this card is a great addition to your collection.